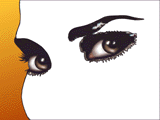 There's nothing more complementary than removing a facial wrinkle. Botulinum toxin type A (Botox) is the gold standard for removing glabellar rhytids (forehead winkles). So, it's not surprising when topical creams sold without a prescription purport to give similar or better outcomes.
Fat chance.
77 women were divided into 5 groups for one of the following treatments.
Botulinum toxin type A
Placebo injection
StriVectin-SD
DDF Wrinkle Relax
HydroDerm
Using a array of evaluation methods, both the doctors and the women reported significantly better outcomes and satisfaction with Botox.
Now hear this!
Treatment with any of the three topical creams did not result in a significant difference from placebo.
What's more?
Three adverse events occurred in three women who received StriVectin-SD.
12/25/06 22:56 JR