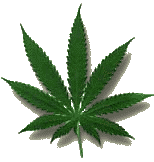 North of the (US) border it's possible to get medical marijuana from the government if you have a "grave or debilitating disease."
Here's a report on a group of such patients who reported relief from smoking or taking marijuana by mouth.
Among 30 patients, 28 reported moderate or greater pain relief, 23 also reported increased appetite and a sense of well-being, weight gain, and slowed thoughts.
Cool!
Unfortunately, these are just 30 anecdotal reports. The treatments were not randomly assigned. It's a small group of people, and there was no control group used for comparison.
Is it asking too much to design a real clinical trial?
I guess in a world dominated by politics, it's just an unnecessary burden.
Although it's not mentioned in the abstract, we'll assume the conditions that filled the "grave and debilitating disease" criteria are listed in the article and that there's information on former use of marijuana by the patients and how that might have affected the outcomes.
Lynch et al. J Pain Symptom Manage. 2006 Nov;32(5):497-501.
12/26/06 21:39 JR