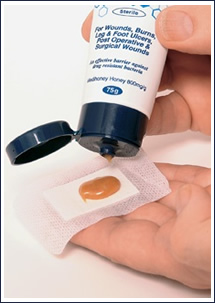 Historically, a poultice was a soft moist mass of bread, meal, clay, or other adhesive substance. It was usually heated, with the active ingredient spread on cloth, and applied to warm, moisten, or stimulate an aching or inflamed part of the body. The poultice has been used to reduce fever, treat rattlesnake bites, and any condition of the skin that requires direct application of medicine.
Now, the poultice is being used with honey, Medihoney to be precise, in the treatment of wounds.
Doctors at two dozen hospitals in Germany have reported anecdotal success, and now clinical trials are getting underway.
There is particular interested in the antimicrobial actions of honey for the treatment of wounds infected by resistant bacteria. This is important because bacteria and other microorganisms that cause infections are remarkably resilient and can develop ways to survive drugs meant to kill or weaken them. There's more here from the FDA on this growing infectious disease problem.
7/31/06 11:24 JR