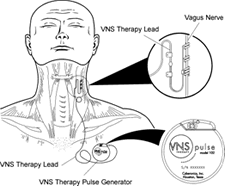 The vagus nerve stimulator (VNS), "would have been unimaginable only a generation ago. After being implanted in a patient's chest, … research suggests that repeated electronic stimulation of the vagus nerve can help treat severe depression", says The New York Times.
It's an interesting article, but here's what you need know.
The VNS system is not first-line treatment. It's added to other treatments of recurrent severe depression.
What it is: a nerve stimulator, surgically implanted in the chest (like a pacemaker)
When it's used: for recurrent severe depression in adults who do not respond to other treatments
Experience: Used to treat epilepsy since 1997
Patient control: Hold a magnet over the device to turn it off
There are risks associated with its placement.
Surgical complications
Vagus nerve damage
Skin irritation
Pain at the placement site
Infection
Movement after placement and disconnection of the wires
Side effects during the first 3 months that occur in more than 10% of people treated:
Voice alteration 58%
Cough 24%
Neck pain 16%
Difficulty breathing 14%
Difficulty swallowing 13%
Itching 11%
The side effects are not trivial, but neither is the disease being treated.
Clinical trial results show VNS is not a panacea.
At 3 months after starting treatment: no effect
At 1 year: 56% of patients who could be evaluated reported "meaningful" benefit
At 2 years: 57% of patients who were available to evaluate had "meaningful" benefit
Overall at 2 years: 38% of all patients who started the study had "meaningful" benefit
Some people actually got worse
More information is here and here. And a detailed review of the clinical trial history of VNS is here.
Right now, VNS is the best treatment available for a difficult-to-treat situation.
9/10/06 9:19 JR