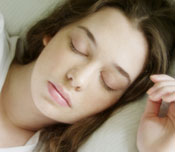 Bandolier has reviewed melatonin and is unimpressed.
Here's what they found.
For people with insomnia, studies show that taking melatonin is no better than placebo.
For people with sleep disorders as a result of another medical condition, sleep time is extended by just 16 minutes with melatonin compared to placebo.
In sleep restriction studies (limiting time available for sleep to a set number of hours), there was no difference in sleep onset latency (time to get to sleep), wakefulness after the onset of sleep, or minutes of rapid eye movement (REM) sleep. There was a small (18 minute) increase in total sleep time.
All the studies were small, but the results show no reason to think that a larger study might show anything different.
A good review of the stages of sleep is available here.
Photo credit: Diane Diederich at HappyNews.com
9/9/06 18:18 JR