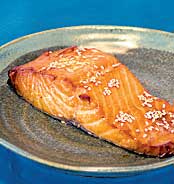 A study of 61,000 adult women in Sweden reports that eating fatty fish lowers a woman's risk of kidney cancer. Fatty fish included salmon, herring, sardines, and mackerel. Lean fish included cod, tuna, and sweet water fish.
How much lower risk?
One or more servings of fatty fish per week lead to a 44% decreased risk of kidney cancer compared with women who did not eat any fish
The more they ate, the lower became the risk
Women reporting a consistent long-term consumption of fatty fish over 10 years had a 74% lower risk
Eating lean fish or other seafood had no effect on the risk of RCC.
The researchers think it's due to the large differences between fatty fish and lean fish in the content of omega-3 fatty acids and vitamin D. The levels of marine omega-3 polyunsaturated fatty acids are 20 to 30 times higher in fatty cold-water fish than in lean fish.
9/21/06 22:53 JR