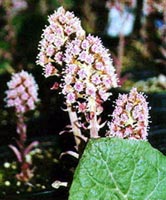 In an earlier post, the effectiveness of butterbur (Ze 339) was reviewed and found to be as effective as the antihistamines, citirizine (Zyrtec) and fexofenadine (Allegra) to treat the runny nose; sneezing; congestion; and irritation in the nose, eyes, throat, and ears associated with allergic rhinitis.
Now, here are the results of a survey of 580 patients with seasonal allergic rhinitis treated with an average of 2 tablets of Ze 339 daily for 2 weeks.
80% said it was effective
92% found there was no downside to taking Ze 339
80% said their quality of life improved
3.8% had an adverse effect
Nonspecific GI effects were most common
One more thing.
Taking antiallergic medication with Ze 339 did not result in a better effect than was attained with Ze 339 alone.
Adverse events occurred at a rate of 3.8%, mostly nonspecific gastrointestinal complaints.
For completeness however, a recent review states that there are four reports of people getting reversible cholestatic hepatitis, which was probably (not definitely) associated with long-term use of butterbur (incidence of 1:175,000 people). It is unknown which components of butterbur are responsible for this long-term liver toxicity.
Photo: Herbs & Roots
9/17/06 21:44 JR