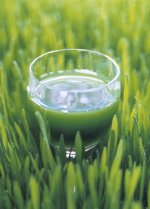 It has everything needed to become a cult health food icon.
Historical context: Edmund Szekely translated an ancient manuscript in the Vatican's secret archives, which stated, "Wheatgrass is a good food for man."
A villain: "In my desperation … I turned to the medical profession only to have most doctors I went to uninformed about my illness. One doctor even said … I may as well learn to live with it."
Rebirth: "Ultimately, I accepted the responsibility of getting myself well."
A happy ending: "I integrated raw (living) food and chlorophyll into my diet. The chlorophyll I use comes from wheatgrass. I grow the grass indoors."
Lovely. But what's in wheatgrass that warrants so much attention?
Wheatgrass has antioxidant activity, which can be measured using ORAC (oxygen radical absorbance capacity) – a lab test that rates antioxidant levels of foods. You can read more here.
One study concluded that the ORAC for wheatgrass is "higher than those reported for many natural extracts or vegetables." The problem is that you drink wheatgrass, so it's hard to tell just how much you're getting.
Bottom line?
The nutritional value of wheatgrass is as an antioxidant. If you like the taste – "skoal." Other ORAC values for foods are listed here.
8/31/06 12:48 JR