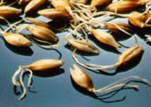 The term prebiotic was defined earlier here. Now, let's look at the results from a short-term and long-term study where germinated barley foodstuff (GBF) was used as a prebiotic to treat ulcerative colitis (UC).
The first was a nonrandomized, open-label 4-week study of patients who were unresponsive to or intolerant of standard treatment. Daily feeding of GBF 30 grams was associated with significant clinical and endoscopic improvement independent of the severity of UC. Once GBF treatment was discontinued the patients had a worsening of their disease.
Now, on to the results from the long-term remission study of GBR in patients with UC.
Researchers randomly assigned patients to GBF 20 grams daily or placebo. Response was measured using the Colitis Activity Index (CAI – Rachmilewitz-Index), which includes a combination of lab parameters and symptoms with a score of greater than 5 indicating active disease. These patients started the study with a score of less than 4 (remission)
This one was not blinded. Why not?!!!
Anyway, after 12 months of "conventional" UC treatment plus GBF or placebo, those getting GBF scored significantly better at 3, 6, and 12 months compared to placebo.
It looks good as far as it goes, although the first study lacked a placebo control and neither study was blinded. GBF seems safe and well tolerated.
Next, the results of a blinded placebo-controlled study would be nice to see.
8/14/06 13:58 JR