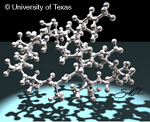 Cyclosporine (Sandimmune, Neoral) is used to prevent organ rejection following kidney, liver, and heart transplants. It may also be used to treat chronic rejection in patients previously treated with other immunosuppressive agents.
The information in this article should be valuable for people taking cyclosporine for its immunosuppressant effect, and for pharmacists and other healthcare professionals who are monitoring this therapy.
Interactions between cyclosporine and St. John's wort and rosemary are discussed. In addition, it reviews the purported immunostimulating effects of certain herbals and herbal medicines that are potential nephrotoxins.
Illustration: University of Texas
8/11/06 20:38 JR