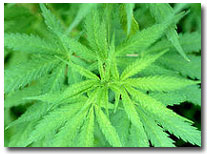 Here is another in our ongoing series on recent marijuana-related medical research.
Cannabidiol (CBD) is a major product of the marijuana plant. It lacks marijuana's psychological effects, and it has been suggested that CBD might be effective as an antipsychotic. The aim of this study was to investigate the response to CBD in treatment-resistant schizophrenia.
After 35 days of CBD treatment, one patient showed mild improvement, while two showed no improvement.
There are several possible reasons for this.
Too few patents studied
Wrong dose
Too difficult to treat stage of the disease
Not treated long enough
It just doesn't work
As an aside, does it strike you as strange that a study of three patients has seven authors?
8/31/06 22:13 JR