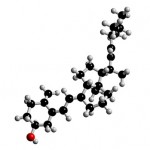 Almost half of older adults take vitamin D with or without calcium.
Researchers at the University of Tasmania, Hobart, in Australia, reviewed the evidence.
First, the details.
Data from 23 studies averaging 23.5 months in 4082 participants (92% women, averaging 59 years) were combined for a meta-analysis.
19 studies had mainly Caucasian populations.
The effects of vitamin D (D3 or D2, but not vitamin D metabolites) on bone mineral density were evaluated.
The primary endpoint was the percentage change in bone mineral density measured at 1 to 5 sites (lumbar spine, femoral neck, total hip, trochanter, total body, or forearm) in each study.
And, the results.
Average starting 25-hydroxyvitamin D blood level was less than 50 nmol/L in 8 studies.
In 10 studies the vitamin D dose was less than 800 IU per day.
Findings out of 70 tests of statistical significance across the studies

6 findings of significant benefit
2 of significant detriment
The rest were non-significant

Only 1 study showed benefit at more than 1 site.
There was small but significant benefit at the femoral neck.
No effect at any other site was reported, including the total hip.
There was a bias toward positive results at the femoral neck and total hip.
And, the results.
The authors concluded, "Continuing widespread use of vitamin D for osteoporosis prevention in community-dwelling adults without specific risk factors for vitamin D deficiency seems to be inappropriate."
Dr. Clifford Rosen from the Maine Medical Research Institute in the USA placed these finding into perspective. "Supplementation to prevent osteoporosis in healthy adults is not warranted. However, maintenance of vitamin D stores in the elderly combined with sufficient dietary calcium intake (800 to 1200 mg per day) remains an effective approach for prevention of hip fractures."
More recommendations from the National Osteoporosis Foundation to reduce the risk of fracture in older adults are here.
10/11/13 10:26 JR