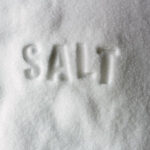 The NIH Committee on the Consequences of Sodium Reduction… reports it might be time to entertain second thoughts on the importance of salt restriction.
It was just a matter of time.
First, the details.
The Committee was asked to review the benefits and adverse outcomes (if any) of reducing sodium intake.
Daily intake of 1,500 to 2,300 mg was targeted.
Subgroups of particular interest included the following:
People with high blood pressure and prehypertension

Those 51 years of age and older
African Americans
People with diabetes
Those with chronic kidney disease
People with congestive heart failure (CHF)

The results from relevant studies were reviewed.
And, the results.
Studies linking dietary sodium intake with direct health outcomes were highly variable in quality, particularly in assessing sodium intake.
There is no consistent evidence supporting an association between sodium intake and a beneficial or adverse effect on most health outcomes other than some cardiovascular disease outcomes (including stroke and death due to cardiovascular causes) and death due to any cause.
Yes, there is a positive relationship between higher levels of sodium intake and risk of cardiovascular disease.
However, at a sodium intake below 2,300 mg per day there's insufficient evidence to claim benefit or risk of cardiovascular disease outcomes (including stroke and death due to cardiovascular disease) or death due to any cause in the general U.S. population.
Low sodium intake (eg, to 1,840 mg per day) may lead to greater risk of adverse events in patients with CHF receiving treatment.
Among prehypertensive patients there's some evidence suggesting a continued benefit of lowering sodium intake in these patients down to 2,300 mg per day (and lower, although that's based on small numbers in the lower range).
In contrast, there's no evidence for benefit and some evidence suggesting risk of adverse health outcomes associated with sodium intake levels between 1,500 to 2,300 mg per day in people with other diseases — specifically those with diabetes, chronic kidney disease, or pre-existing cardiovascular disease.
No relevant evidence was found on health outcomes people 51 years of age and older and African Americans.
Studies of interactions among race, age, or prevalence of hypertension or diabetes did not show a change by sodium on health outcomes.
The bottom line?
The authors concluded, "The available evidence on associations between sodium intake and direct health outcomes is consistent with population based efforts to lower excessive dietary sodium intakes, but it is not consistent with recommendations that encourage lowering of dietary sodium in the general population to 1,500 mg per day.
Here's some useful information from the American Heart Association.
1/4 teaspoon salt = 600 mg sodium
1/2 teaspoon salt = 1,200 mg sodium
3/4 teaspoon salt = 1,800 mg sodium
1 teaspoon salt = 2,400 mg sodium
5/16/13 9:49 JR