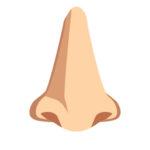 People with hereditary hemorrhagic telangiectasia (HHT) have abnormalities in their blood vessels. The most common manifestation is spontaneous and recurrent nosebleeds (epistaxis). More on HHT is here.
Researchers at the Johns Hopkins Sinus Center, in Baltimore, Maryland, studied the effects of sesame/rose geranium oil.
First, the details.
20 patients (average age: 54 years) with HHT confirmed by the Curaçao criteria were treated with a sesame/rose geranium oil topical compound for 18 months.
A treatment evaluation survey was conducted at least 3 months after starting treatment.
Changes in nose bleed severity scores, patient satisfaction, and any adverse effects were assessed.
And, the results.
At the conclusion of the study, 18 (90%) were still using rose geranium oil.
Most (75%) of patients subjectively felt improvement with the treatment.
The improvement was described as gradual in 25% and immediate in 50% of patients.
Overall satisfaction using a 10-point scale was 8, with 50% of the patients reporting a satisfaction rating of 10.
Average nose bleed severity score prior to treatment was 5.

After treatment with sesame/rose geranium oil, the average score was 3.5 — a significant difference.

No side-effects from the treatment were recorded.
The bottom line?
The authors concluded, "A sesame/rose geranium oil compound can significantly reduce the epistaxis severity scores of patients with hereditary hemorrhagic telangiectasia-related epistaxis."
Today, laser and heat cauterization are the main surgical approaches to treating HHT-related nose bleeds, but this requires follow-up treatments. An alternative is a surgical procedure, septodermoplasty, to remove mucosa from the nasal septum and replace it with a skin graft.
It's clear that topical sesame/rose geranium oil, if these results can be duplicated, would have a role in this condition. Geranium oil is an astringent, while there is evidence that sesame oil can control cell growth.
This study is limited by a small study population size and a lack of long-term follow-up. These problems can be corrected in future studies.
2/26/13 12:18 JR