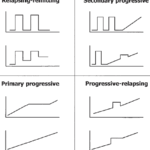 Diets and dietary supplements are often used by people with multiple sclerosis (MS).
This updated Cochrane review reports on studies of dietary habits as an effective treatment for MS patients.
First, the details.
The results from 6 studies (794 patients) of polyunsaturated fatty acids were evaluated
In general, trial quality was poor.
No studies on vitamin supplements and allergen-free diets were analyzed, because of poor study design.
And, the results.
Polyunsaturated fatty acids: No significant effect on disease progression at 24 months
Omega-6 fatty acids (11 to 23 grams/day linoleic acid): No benefit in 144 MS patients
Linoleic acid (3 grams/day): No benefit in 65 chronic progressive MS patients

Progressive MS: Neurologic decline between acute attacks without definite periods of remission

Omega-3 fatty acids: No benefit in 292 relapsing remitting MS patients

Remitting MS: Unpredictable relapses followed by periods of relative quiet

Slight potential benefits in relapse outcomes were associated with omega-6 fatty acids in some studies, however study design limited the value of these findings.
No judgments about safety were possible.
The bottom line?
Back in 2007 the National MS Society reviewed omega-3 and concluded that there is a scientific rationale for this supplement and some hints of effectiveness.
Now, these authors have concluded, "Polyunsaturated fatty acids seem to have no major effect on the main clinical outcome in MS (disease progression), but they may tend to reduce the frequency of relapses over two years."
People with MS use CAM because conventional treatments have side effects, and they are dissatisfied with the results.
They also feel they have too little time with their physician — more than half of patients with MS in Germany get just 15 minutes for the first meeting. They've been given a scary diagnosis, and then get just 15 minutes with the person they're entrusting their care to. For these people, the message is you're alone, prepare to fend for yourself.
Healthcare providers need to ensure that support at a psychological level is the first treatment.
12/20/12 11:03 JR