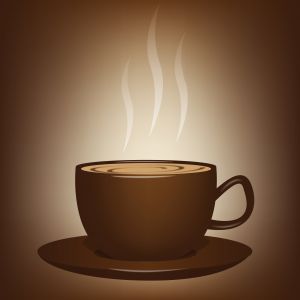 Research shows that coffee and caffeine are associated with increased blood pressure (acutely), (nor)epinephrine levels, arterial stiffness and impaired vasodilation.
But according to researchers in the US, drinking just the right amount may lower your risk for heart failure.
First, the details.
Data from 5 studies of coffee consumption and heart failure risk, including 6,522 heart failure events and 140,220 participants were included in a meta-analysis.
The studies covered January 1966 through December 2011.
The design of the eligible studies was prospective — the effects of coffee drinking were recorded as part of an ongoing process rather than reviewing past records.
And, the results.
There was a statistically significant J-shaped relationship between coffee and heart failure.

Compared to no coffee consumption, the risk for heart failure was lower with 4 servings/day.
There appeared to be a potentially higher risk when people drank more than 4 cups per day — thus the "J" shape.

There was no evidence that the relationship between coffee and heart failure risk varied by gender or by history of heart attack or diabetes.
The bottom line.
The authors concluded, "Moderate coffee consumption is inversely associated with risk of heart failure, with the largest inverse association observed for consumption of 4 servings per day."
The coffee controversy started in 2001 when researchers at Göteborg University, in Sweden reported that compared to no coffee consumption, the risk of hospitalization or death from heart failure was 17% higher among men who consumed 5 or more cups of coffee per day. This finding significantly influenced the American Heart Association's position on heart failure prevention, which stated in 2008 that coffee may increase heart failure risk.
However, the Swedish researchers failed to adjust for potential confounding factors. And subsequent studies reported that coffee may protect against heart failure or that no association exists.
The results of this meta-analysis show a J-shaped relationship between coffee consumption and heart failure incidence. Yes, the risk declines at first with a modest (4 cups per day) amount of coffee per day. But as with everything in life, moderation is the key. Drinking more does not confer added protection, and it may be detrimental to your health.
At least that's the story today. And we're sticking to it until the next study is published.
6/27/12 09:57 JR