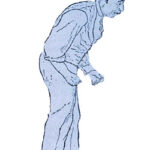 Researchers at the University of Exeter, in the UK, evaluated the effectiveness of an exercise program in people with Parkinson's disease who have a history of falls.
First, the details.
130 patients with Parkinson's disease, able to get around independently, and with a history of at least 2 falls in the previous year were randomly assigned to a treatment group for 10 weeks.

Group physiotherapy for strength and balance plus supplementary home exercises
Usual care (control)

The number of falls during treatment and during the 10-week follow-up period was recorded.
And, the results.
There was no statistically significant difference in falls between groups.
Statistically significant differences between groups were observed in Berg balance, Falls Efficacy Scale-International scores and recreational physical activity levels.

Berg Balance Scale is a 14-item scale designed to measure balance in the older adult
The Falls Efficacy Scale-International assesses perception of balance and stability during activities of daily living.
The bottom line?
The authors concluded, "The study did not demonstrate a statistically significant between group difference in falls although the difference could be considered clinically significant."
So, the patients who exercised perceived improvement, but the risk of falling didn't differ between the groups.
Maybe more patients should have been studied, although this is something a statistician should have advised the researchers of before the study started.
8/24/11 21:43 JR