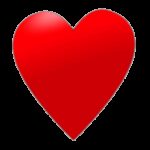 Psychosocial factors are associated with increased risk of cardiovascular disease morbidity and mortality, but the effects of psychosocial factor treatment on heart disease are uncertain.
Researchers at Uppsala University Hospital, in Sweden, studied the effects of cognitive behavioral therapy (CBT) on the recurrence of cardiovascular disease.
First, the details.
362 women and men who were discharged from the hospital after a coronary heart disease event within the past 12 months were randomly assigned to a treatment group — 20, 2-hour sessions during 1 year.

Traditional care
Traditional care + CBT focused on stress management

Changes in death rate, hospital admission for recurrent heart disease, and recurrent acute heart attack were measured.
And, the results.
The traditional care + CBT group had…

Significant 41% lower rate of fatal and nonfatal first recurrent cardiovascular disease events,
Significant 45% fewer recurrent acute heart attacks,
Nonsignificant 28% lower all-cause mortality vs the traditional care group after adjusting for other variables.
The bottom line?
The authors concluded, "A CBT intervention program decreases the risk of recurrent cardiovascular disease and recurrent acute myocardial infarction."
These results may have implications for secondary preventive programs in patients with coronary heart disease.
Among nonpharmacologic treatment for patients with coronary heart disease, a review by researchers at Duke Medical Center, in Durham, North Carolina,  concluded that the research supports CBT. "In terms of reducing depression, the most evidence exists for psychological treatments, particularly CBT.
Another reason to consider CBT as part of secondary prevention.
1/28/11 21:42 JR