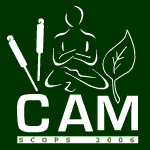 Complementary and alternative medicines (CAM) are frequently given to children and adolescents for reputed benefits for hyperkinetic and concentration disorders such as attention deficit hyperactivity disorder (ADHD).
Researchers in Arizona and Australia assessed the evidence based on the results of studies providing an acceptable standard of evidence.
First, the details.
16 studies met the inclusion criteria.
And, the results.
Support for the treatment of ADHD was found for the following:

Zinc
Iron
Pinus marinus (French maritime pine bark)
Chinese herbal formula (Ningdong)

Mixed (mainly inconclusive) evidence:

Omega-3
L-acetyl carnitine

Ineffective in treating ADHD:

Ginkgo biloba (ginkgo)
Hypericum perforatum (St. John's wort)

Promising candidates for future research:

Bacopa monniera (brahmi) and Piper methysticum (kava) via a combination of cognitive enhancing and sedative effects.
The bottom line?
As you might expect, the authors concluded, "Only some CAM may be beneficial in ADHD, thus clinicians need to be aware of the current evidence."
For greater detail, this review can be purchased on line.
8/28/11 21:31 JR