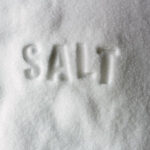 For decades, politicians like Mayor Michael Bloomberg of NYC have tried to get Americans to eat less salt.
Now Scientific American asks, "But if the US does conquer salt, what will we gain?"
Answer: bland french fries.
How did salt become a cause celeb?
1904: French doctors reported that 5 patients with high blood pressure — a known risk factor for heart disease — were salt fiends.
1970s: Lewis Dahl at Brookhaven National Laboratory claimed he had  "unequivocal" evidence that salt causes hypertension based on animal studies.

The rats got huge doses of sodium (human equivalent of 500 grams a day)

The average American consumes 3.4 grams of sodium, or 8.5 grams of salt, daily.
OK, here's what we really know.
1988: 52 international research centers found no relationship between sodium intake and the prevalence of high blood pressure.
2003 Cochrane review of 57 short-term studies reported, "There is little evidence for long-term benefit from reducing salt intake."
2004: Another Cochrane review of 11 salt-reduction studies concluded, "Intensive interventions (salt reduction), unsuited to… prevention programs, provide only minimal reductions in blood pressure during long-term trials."
2011: Analysis of 7 studies involving a total of 6,250 people found no strong evidence that cutting salt intake reduces the risk for heart attacks, strokes, or death in people with normal or high blood pressure.
The bottom line?
The idea that low salt diets will lower blood pressure significantly or reduce the risk of heart disease is conjecture, not proven in scientific research.
Hey, Mayor Bloomberg, rather than bully companies and the public, put your money (I mean your money not my money) where your mouth is and finance a study to see what, if anything happens, to average people who follow low-salt diets over time.
7/24/11 19:37 JR