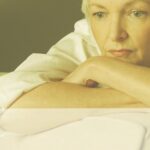 There are few effective treatments for hot flushes in post-menopausal breast cancer survivors.
During the annual meeting of the American Society of Clinical Oncology, researchers at Wake Forest University School of Medicine, in Winston-Salem, North Carolina reported the results from a pilot study.
First, the details.
9 women at least 2 years after active treatment for non-metastatic breast cancer, and with a minimum of 3 hot flushes per day or 21 per week participated.
Women were ineligible if they were being treated for hot flushes (eg, estrogen, antidepressants).
Participants took 3, 300 mg St. John's wort capsules daily for 4 weeks.
Participants completed hot flush diaries during active treatment (weeks 1-4), and for 2 weeks post-treatment (weeks 5-6) to assess hot flush frequency and severity.
In addition, women completed quality of life assessments.
And, the results.
St. John's Wort was not effective in reducing the frequency or severity of hot flushes.
Quality of life was not improved.
No adverse events were reported.
The bottom line?
The authors concluded, "St. John's Wort was not effective."
Others also reported a lack of effect.
6/6/11 20:20 JR