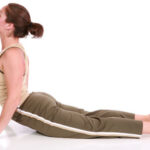 Researchers at the University of Costa Rica, in San Jose, reviewed the evidence on the effects of Pilates exercises body composition.
First, the details.
7 studies were included in the review.
The studies were poor quality.
And, the results.
There was a lack of true experimental research design

Limited standardization in measurement techniques
Insufficient or no control of the nutritional status
Inconsistent instructor qualifications

There is poor empirical quantitative evidence indicating a positive effect of Pilates exercises on body composition.
The bottom line?
The authors concluded, "Well-designed research is needed to determine how Pilates exercises impact BC on selected populations."
The review is informative in that it lists some of the more common flaws in CAM research design.
12/27/11 22:02 JR