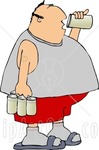 Researchers at Yonsei University College of Medicine, in Seoul, Republic of Korea, studied changes in metabolic parameters, inflammatory markers, arterial stiffness, and fatigue.
First, the details.
51 obese people (BMI at least 25?kg/m2 were randomly assigned to a treatment group for 12 weeks.

Coenzyme Q(10) (200?mg/day)
Placebo

A battery of studies was performed.
Neither the patients nor researchers knew the treatment given — double blind.
And, the results.
Blood levels of coenzyme Q(10) increased significantly in the coenzyme Q(10) group.
There were no changes in cholesterol, oxidative and inflammatory markers.
Fatigue decreased significantly in the coenzyme Q(10), but no significant change was seen in the placebo group.

The change in mean fatigue between placebo and coenzyme Q(10) was not significant.
The bottom line?
The authors concluded there was "no evidence that coenzyme Q(10) affects fatigue index, arterial stiffness, metabolic parameters, or inflammatory markers.
7/27/11 21:53 JR