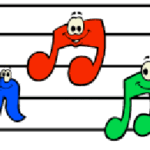 They are at risk for respiratory infections due to excessive mucus in their airways. Airway clearance is therefore an important part of cystic fibrosis management.
This Cochrane review analyzed the evidence.
First, the details.
The reviewers searched for well-designed studies in which singing (as part of regular therapy) was compared with a sham treatment or no singing in people with cystic fibrosis.
And, the results.
No studies were found that met the selection criteria.
The bottom line?
The authors were "unable to support or refute the benefits of singing as a therapy for people with cystic fibrosis."
The rationale for conducting the review of this topic was based on the observation that increasing anecdotal evidence suggests that singing may support lung function and enhance quality of life of people with cystic fibrosis.
The Internet lists many activities and promotions linking music to cystic fibrosis in a positive way. For example, the First Annual Cystic Fibrosis Music Festival is scheduled for September 25, 2010.
6/20/10 19:31 JR