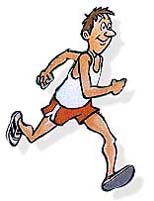 If you exercise enough, is it possible to selectively lose abdominal fat?
No, say researchers at Wake Forest University in Winston-Salem, North Carolina and the State University of New York at Buffalo.
First, the details.
112 overweight and obese postmenopausal women participated.

Body mass index: 25-40 kg/m2
Waist circumference greater than 88 cm

They were assigned to a 20-week program.

Calorie restriction (CR only)
CR plus moderate-intensity aerobic exercise
CR plus vigorous-intensity exercise

Diet followed a controlled program of underfeeding during which meals were provided at individual calorie levels (about 400 kcal/day).
Exercise (3 days/week) involved treadmill walking at an intensity of 45% to 50% (moderate-intensity) or 70% to 75% (vigorous-intensity) of heart rate reserve.
And, the results.
Average weight loss did not differ across groups.
Maximal aerobic exercise capacity (VO2max) increased significantly more with CR + vigorous-intensity vs the other groups.
The CR-only group lost significantly more lean mass than either exercise group.
All groups showed significant but similar decreases in abdominal fat.
Changes in lipids, fasting blood sugar or insulin values were similar among the groups.
The bottom line?
The authors concluded, "There is not a preferential loss of abdominal fat when either moderate- or vigorous-intensity aerobic exercise is performed during caloric restriction."
2/23/09 19:57 JR