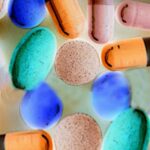 Dietary supplement use has steadily increased since the 1970s.
Researchers at the National Institutes of Health estimated dietary supplement use based on the National Health and Nutrition Examination Survey (NHANES) 2003–2006, a nationally representative survey.
First, the details.
Dietary supplement use was analyzed for the US population (at least 1 year of age).
Supplement use was measured through a questionnaire and reported by 49% of the US population (44% of males, 53% of females).
And, the results.
Multivitamin-multi-mineral use was the most frequently reported dietary supplement (33%).
Most people reported taking only 1 dietary supplement and did so daily.
Lowest users
Highest users of dietary supplements:

Non-Hispanic whites
Older adults
More than a high-school education

Prevalence of use:

28% to 30% used dietary supplements containing vitamins B-6, B-12, C, A, and E.
18% to 19% used iron, selenium, and chromium.
26% to 27% used zinc- and magnesium-containing supplements.

Botanical supplement use was more common in older of adults (20%) vs younger (lowest in 1–13 year age) groups.
About half the population and 70% of adults older than 70 years use dietary supplements.
One-third use multivitamin-multi-mineral dietary supplements.
The bottom line?
The authors concluded, "Given the widespread use of supplements, data should be included with nutrient intakes from foods to correctly determine total nutrient exposure."
OK, but it's also one more reason for healthcare professionals to include questions about supplement use in the drug history.
11/2/11 21:29 JR