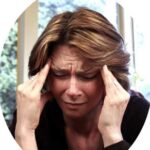 Available studies suggest that acupuncture is at least as effective as, or possibly more effective than, prophylactic drug treatment.
Here's the latest from researchers in China.
First, the details.
140 patients with migraine without aura were assigned randomly to 2 different treatment group.

Acupuncture group: Verum (traditional) acupuncture 3 times per week plus placebo every night
Control group: Sham acupuncture plus flunarizine (Sibelium, a calcium channel blocker)

Patients were evaluated at the start, week 4, and week 16.
Responders to treatment were defined as the proportion of patients with a 50% reduction in migraine days.
Pain levels and quality of life were also recorded.
And, the results.
The patients in the acupuncture group were significantly more likely to have a 50% reduction in migraine days compared to the control group.
There were no significant differences between the 2 groups in pain scores and quality of life.
The bottom line?
The authors concluded, "Acupuncture was more effective than flunarizine in decreasing days of migraine attacks.
There were no significantly differences between acupuncture and flunarizine in reduction of pain intensity and improvement of the quality of life.
5/31/11 19:30 JR