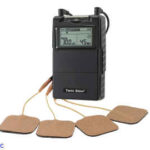 Myofascial trigger points may cause joint pain, headaches, and other kinds of pain so severe that it doesn't respond well to painkillers.
Researchers at CEU-San Pablo University, in Madrid, Spain, assessed the response to burst application of transcutaneous electrical nerve stimulation (TENS).
First, the details.
76 patients were randomly divided into 2 groups

TENS group received a burst-type TENS (pulse width, 200 mcs; frequency, 100 Hz; burst frequency, 2 Hz) stimulation over the upper trapezius for 10 minutes.
Placebo group received a sham-TENS application.

The trapezius muscle spans the neck, shoulders, and back.
Referred pressure pain threshold over myofascial trigger points and cervical range of motion in rotation were assessed before, and 1 and 5 minutes after the treatment.
The evaluator was not aware of the treatment given — single blind.
And, the results.
The TENS group experienced a significantly greater increase in referred pressure pain threshold and cervical rotation vs the control group.
Differences between treatments were small at 1 and 5 minutes after treatment.
The bottom line?
The authors concluded, "A 10-minute application of burst-type TENS increases in a small but statistically significant manner the referred pressure pain threshold over upper trapezius latent myofascial trigger points and the ipsilateral cervical range of motion."
10/9/11 23:46 JR