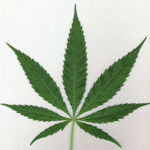 It's the most commonly detected nonalcoholic drug in drivers.
Researchers at Columbia University College of Physicians and Surgeons, in New York City, reviewed the evidence for its role in causing crashes.
First, the details.
A meta-analysis of 9 epidemiological studies in the past 2 decades was conducted.
And, the results.
People who tested positive for marijuana or reported having just used pot had more than twice the risk of being involved in a car crash compared to people who consumed no drugs (including alcohol).
A greater risk of crash involvement was associated with marijuana use even after adjusting for confounding variables.
The risk of crashing increased as the concentration of 11-nor-9-carboxy-delta-9-tetrahydrocannabinol in the urine increased, and as the frequency of self-reported marijuana use increased.
The bottom line?
The authors concluded, "Marijuana use by drivers is associated with a significantly increased risk of being involved in motor vehicle crashes."
10/17/11 7:50 JR