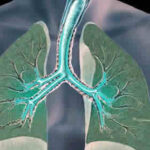 Dyspnea (difficulty breathing) is a cardinal symptom of chronic obstructive pulmonary disease (COPD). Its severity and magnitude increase as the disease progresses, leading to significant disability and a negative effect on quality of life.
Here are the Canadian Thoracic Society clinical practice guidelines, with emphasis on CAM.
There is insufficient evidence to support the routine use of the following CAM options.
Acupuncture
Acupressure
Distractive auditory stimuli (music)
Relaxation
Handheld fans
Counseling programs or psychotherapy
The bottom line?
Let's be clear on the symptom of dyspnea. It's a sign of serious disease of the airway, lungs, or heart. The onset of dyspnea should not be ignored but is reason to seek medical attention.
Accordingly, treatment should focus on what is known to work based on the best medical evidence.
4/22/11 21:15 JR