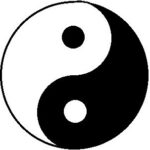 Researchers at the University of Sydney, in New South Wales, Australia, determined the effect of tai chi exercise on persistent low back pain.
First, the details.
160 adults with persistent nonspecific low back pain were assigned to a treatment group for 10 weeks.

Tai chi group: 18, 40-minute sessions in a group format by a qualified instructor
Waitlist control group that continued their usual healthcare

Change in bothersomeness of back symptoms was the primary outcome.
Changes in pain intensity and pain-related disability were also measured.
And, the results.
Tai chi exercise:

Reduced bothersomeness of back symptoms by 1.7 points on a 0-10 scale
Reduced pain intensity by 1.3 points on a 0-10 scale
Improved self-report disability by 2.6 points on the 0-24 Roland-Morris Disability Questionnaire scale.

These results were considered a worthwhile treatment effect by researchers and participants.
The bottom line?
The authors concluded, "A 10-week tai chi program improved pain and disability outcomes and can be considered a safe and effective intervention for those experiencing long-term low back pain symptoms."
The change in terms of numerical values may not seem like much, but for a person in pain, a change of about 2 points may make the difference between function and disability.
10/30/11 20:42 JR