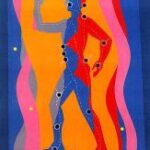 Women with endometriosis may complain of chronic pelvic pain, most notably dysmenorrhea.
Researchers at the University of Western Sydney, in Australia, reviewed the evidence for acupuncture. 
First, the details.
24 studies were identified that involved acupuncture for endometriosis.
Only one study of 67 participants was of sufficient quality to be included in the review.
And, the results.
Dysmenorrhea scores were significantly lower with acupuncture, based on the 15-point Guideline for Clinical Research on New Chinese Medicine for Treatment of Pelvic Endometriosis scale.
The total effective rate ('cured', 'significantly effective' or 'effective') for auricular acupuncture and Chinese herbal medicine was 92% vs 60% — a significant difference.
The improvement rate didn't differ significantly between auricular acupuncture and Chinese herbal medicine for cases of mild to moderate dysmenorrhea.

It did significantly reduce pain in cases of severe dysmenorrhea, however.
The bottom line?
The authors concluded, "The evidence to support the effectiveness of acupuncture for pain in endometriosis is limited, based on the results of only a single study that was included in this review."
Amazing, 24 studies and only 1 contributes to our knowledge of acupuncture for pain control in endometriosis.
10/31/11 19:22 JR