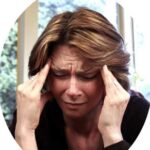 Researchers at the University of Gothenburg, in Sweden, compared the effects of exercise and topiramate (Topamax) in migraine prevention.
First, the details.
91 adults with migraine were randomly assigned to a treatment group for 3 months.

Exercising for 40 minutes 3 times a week
Relaxation according to a recorded program
Daily topiramate, slowly increased to the highest tolerable dose (maximum 200 mg/day)

Changes in the frequency of migraine attacks during the final month of treatment were compared with the start of the study.
Migraine status, quality of life, level of physical activity, and oxygen uptake were evaluated.
And, the results.
There was a reduction in attacks with exercise, with relaxation, and with topiramate.
No significant difference was observed between the groups.
The bottom line?
The authors concluded, "Exercise may be an option for the prophylactic treatment of migraine in patients who do not benefit from or do not want to take daily medication."
Even better, relaxation appeared to have a positive effect.
The value of exercise to lower the risk of migraine is controversial.
Researchers from the State University of New York, at Binghamton reported a positive association between kiko exercise (video here) and preventing headaches.
By comparison, researchers from the University for Regensburg in Bayern, Germany reviewed the evidence and found, most studies reported no change in the frequency or duration of headache attacks.
10/23/11 20:50 JR