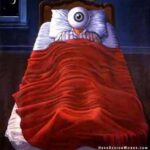 It's probably one of the most popular uses of CAM.
Researchers in Australia reviewed the evidence.
First, the details.
The focus was on hypnotic CAM, including herbal and nutritional medicine, acupuncture, acupressure, yoga, tai chi, massage, aromatherapy and homoeopathy.
Many studies lacked rigor and included too few people
64 studies were identified, of which 20 studies involving 8 CAM treatment were worth including.
And, the results.
There was support for the treatment of chronic insomnia for the following treatments:
There was mixed evidence for the following:

Acupuncture + L-tryptophan

There was weak and unsupportive evidence for herbal medicines such as valerian.
Surprisingly, studies involving several mainstream CAM therapies (eg, homoeopathy, massage, or aromatherapy) were not studied or didn't meet basic inclusion criteria.
The bottom line?
The authors concluded, "If CAM interventions are to be considered as viable stand-alone or adjuvant treatments for sleep disorders, future researchers are urged."
And maybe we might include "untested CAM therapies such as massage, homoeopathy, or osteopathy, say the authors.
3/16/11 20:46 JR