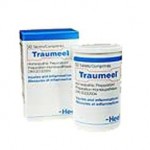 Researchers from Israel studied the effectiveness of this frequently prescribed over-the-counter homeopathic product composed of extracts from a combination of plants and minerals.
It is widely sold in German, Switzerland and Austria.
First, the details.
80 patients scheduled for ambulatory hallus valgus (bunion) surgery were randomly assigned to a treatment group.

Traumeel S: 2 tablets 5 times daily for the first 3 days, and 3 times daily afterwards
Placebo: Taken following the same dosing regimen as the Traumeel S

All patients took tablets of paracetamol (acetaminophen) 325 mg + codeine 15 mg 2 tablets up to 6 times daily as their main pain medicine. They additionally received a prescription for tramadol (Ultram) 100 mg tablets as "rescue" pain medicine to take as needed, up to 4 tablets a day.
Changes in maximum daily pain at rest were measured using a visual analogue scale (VAS) that was filled out on the day of surgery and for 13 days thereafter.
In addition, the use of pain medicine, including the number of days where analgesics were needed was recorded.
Side effects were monitored throughout the study.
Neither the patients nor researchers knew the treatment given — double blind.
And, the results.
There was no difference in pain or the consumption of pain medicine between the Traumeel S and placebo groups over the 14 days of the study.
There was a significant but transient reduction in the daily maximum post-operative pain score favoring Traumeel S on the day of surgery.
The bottom line?
Regarding the significant finding, the authors questioned whether "a transient reduction in the daily maximum post-operative pain score on the day of surgery is of questionable clinical importance."
The results here fail to support an earlier study where a single injection of Traumeel vs Traumeel injection + oral treatment vs a control group following ambulatory surgery.
The authors tell us, "Homeopathy is frequently attacked for its use of solutions diluted beyond Avogadro's number, and hence physical-chemical implausibility. That criticism was circumvented in this trial by employing a preparation of solutions that were dilute, but well within the material range."
4/19/10 13:54 JR