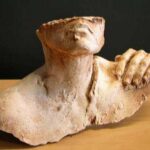 Researchers at Griffith University, in Brisbane, Queensland, Australia, studied the effects of foot massage on agitated behaviors.
First, the details.
22 elderly men and women with a diagnosis of dementia and a history of clinically significant agitation received a 10-minute foot massage each day for 14 days.
And, the results.
Both scores were significantly reduced after message and remained significantly lower than at the start of the study at the 2-week follow up.
The bottom line?
The authors concluded, "This study provides preliminary evidence suggesting that limited short-duration foot massage reduces agitation and related behavioral problems in people with dementia, and that these behavior changes are maintained after the massage ceases."
Next, we need a study in more patients with a comparison of massage to a no treatment control group
9/21/11 21:32 JR