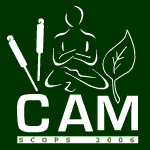 Researchers in Korea and the US studied EstroG-100 — a mixture of standardized extracts of Cynanchum wilfordii, Phlomis umbrosa and Angelica gigas.
First, the details.
64 pre-, peri- and postmenopausal White Hispanic, White non-Hispanic, and African American women were randomly assigned to a treatment group for 12?weeks.
Changes in the Kupperman menopause index (evaluates the severity of menopausal symptoms), and vaginal dryness were measured.
Neither the researchers nor patents were aware of the treatment given — double blind.
And, the results.
The average Kupperman menopause index score was significantly reduced in the EstroG-100 group (30 to 11) compared with the placebo group (29 to 24) at week 12.
Vasomotor symptoms, paresthesia (numbness), insomnia, nervousness, melancholia, vertigo, fatigue, and rheumatic pain were significantly improved in the EstroG-100 group vs the placebo group.
Statistically significant improvement in vaginal dryness in the EstroG-100 group was also observed vs the placebo group.
The bottom line?
The authors concluded, "EstroG-100 significantly improved the menopausal symptoms of pre-, peri- and post-menopausal women without weight gain or any serious side effects."
Cynanchum wilfordii is a perennial herb whose roots have been used in Korea to treat insomnia and anxiety. Phlomis umbrosa purportedly has protective effects on the liver and is used as a haemostatic and to treat athlete's foot. Angelica gigas is used in Korea to treat "women's diseases."
This appears to be the first published study of EstroG.
9/7/11 23:02 JR