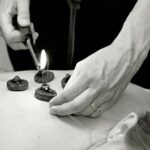 It's commonly done in East Asian countries.
Researchers at Kyung Hee University, in Seoul, South Korea, reviewed the evidence.
First, the details.
5 studies, all poorly designed, were available for review.
And, the results.
Moxibustion + oral administration of micronase (glibenclamide, Glyburide) showed significant effects of moxibustion on control of blood sugar.
Moxibustion showed significant improvement in fasting and postprandial blood glucose levels vs conventional treatment.
Moxibustion + acupuncture showed the more favorable effects on the control of blood glucose, urine glucose, and A1c than either treatment alone in 2 studies.
A final observational study reported positive effects with moxibustion.
The bottom line?
The authors concluded, "It is difficult to conclude that moxibustion is an effective intervention for the control of type 2 diabetes mellitus due to the scarcity of trials and the low methodological quality of included studies."
It's not worth the time to conduct poorly designed studies. The outcomes are meaningless.
8/10/11 21:41 JR