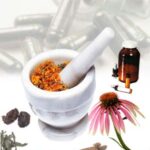 It's a common vaginal infection caused by a yeast-like fungus.
Researchers from the Medical University of Vienna, in Austria compared treatment with itraconazole (Sporanox) to classic homeopathy.
First, the details.
150 women with a history of recurrent vulvovaginal candidiasis and an acute episode of infection were randomly assigned to a treatment group.

Group 1: Itraconazole with lactobacilli
Group 2: Itraconazole without lactobacilli
Group 3: Classic homeopathy was performed for 12 months (details not presented in the abstract)

Itraconazole treatment of the acute infection was followed by 6-months of maintenance treatment with itraconazole 200 mg taken twice in a day, once a month.
Women in Group 1 were also given additional vaginal lactobacilli for 6 days per month throughout the maintenance regimen.
Thereafter, patients were followed without treatment for 6 months.
And, the results.
Women treated with itraconazole achieved negative Candida cultures significantly earlier than the classical homeopathy group.

Before the start of maintenance treatment, 90% in Group 1 and 85% in Group 2 vs 47% of women in Group 3 became free of Candida based on laboratory analysis.

The women treated with classic homeopathy had recurrence of infection significantly earlier than the other groups.

After 12 months, 76% women in Group 1 and 78% of women in Group 2 were free of Candida vs 39% of women in Group 3.

Based on complaints recorded using a Visual Analogue Scale, women treated with classic homeopathy had significantly more discomfort and were significantly less satisfied than women in the other groups.
The bottom line?
Unfortunately, the abstract (the only part of the study available to me) doesn't provide specifics about classic homeopathy.
However, based on results of this study, "Monthly cycle-dependent itraconazole is more effective than classic homeopathy in the treatment of recurrent vulvovaginal candidiasis."
Furthermore, "Lactobacilli do not confer an added benefit."
2/17/10 20:57 JR