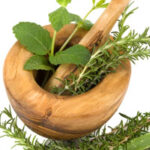 Researchers at the University of Leeds, in Woodhouse, evaluated written information provided with commonly used herbal products in the UK in advance of a European Union Directive that tightens regulations for some herbal products, including requirements to provide safety information.
First, the details.
5 commonly used herbal products were purchased from pharmacies, health food shops, and supermarkets.

St John's wort
Asian ginseng
Echinacea
Garlic
Ginkgo

Written information with the products was evaluated for inclusion of each of the key safety messages included in the monographs of the US National Center for Complementary and Alternative Medicine.
The researchers looked for information on precautions (eg, Asian ginseng not being suitable for people with diabetes), interactions with conventional medicines (eg, St John's wort with the contraceptive pill and warfarin) and side effects (eg, ginkgo and allergic reactions).
And, the results.
Overall, 51 (75%) of 68 products contained none of the key safety messages.

4 of 12 St John's wort products
12 of 12 ginkgo products
6 of 7 Asian ginseng products
20 of 21 garlic products
9 of 13 echinacea products

The 2 products purchased that are registered under the new European Union regulations (for St John's wort) contained at least 85% of the safety messages.
The bottom line?
The authors concluded, "Most of the herbal medicine products studied did not provide key safety information which consumers need for their safe use."
The European Union Directive does little to changes this. According to the authors, it doesn't apply to existing stocks on the shelves. More importantly, it doesn't cover herbals purchased over the Internet from locations outside European Union jurisdiction, and manufacturers who don't make specific therapeutic claims can circumvent the requirement for providing safety information.
It's up to consumers to protect themselves.
8/11/11 22:48 JR