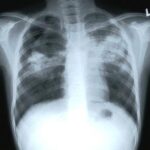 Low blood levels of vitamin A and zinc are common in tuberculosis patients. But do patients benefit from supplementation during treatment?
Researchers at the University of the Western Cape, in Cape Town, South Africa, looked for changes in adults with sputum smear–positive pulmonary tuberculosis.
First, the details.
Participants were randomly assigned to a treatment group for 8 weeks.

Micronutrients (single dose of 200,000 IU retinyl palmitate [vitamin A] + 15 mg zinc/day)
Matching placebo

Sputum was collected weekly for 8 weeks and cultured.
Performance status, chest radiographs, and anthropometric (body) measures were recorded before and at the end of the study.
And, the results.
There were no differences in time to sputum smear or culture conversion between the treatment groups
There was no difference in time to culture detection over the 8 weeks.
There were no significant differences in weight gain or radiologic resolution between the treatment groups.
The bottom line?
The authors concluded, "Supplementation with vitamin A and zinc did not affect treatment outcomes in participants with pulmonary tuberculosis at 8 weeks."
Another recently published study supports these findings. Researchers in Indonesia failed to show that among severely malnourished tuberculosis patients, "single or combined supplementation of zinc and vitamin A significantly reduced sputum conversion time or had other significant benefit."
Contrary to this, researchers at the University of Texas, in El Paso reported, "Earlier elimination of bacilli from sputum was associated with improved zinc status and Th1 (type of white blood cell) immune response. The therapeutic effect of vitamin A was less evident."
What do we know from all this?
Many issues remain to be clarified.
12/20/10 18:57 JR