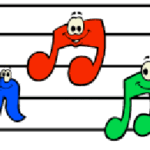 Researchers at Holland Bloorview Kids Rehabilitation Hospital, Toronto, in Ontario, reviewed the evidence.
First, the details.
17 studies were reviewed.
They used music as a therapy or intervention, included participants 1 to 18 years old, and focused on at least 1 health-related outcome (excluding pain associated with a medical/surgical procedural pain).
And, the results.
There were significant improvements in at least 1 health outcome in 4 of 7 studies of children with learning and developmental disorders.
2 of 3 studies involved children experiencing stressful life events.
4 of 5 studies involved children with acute and/or chronic physical illness.
No significant effects were found in 2 studies involving children with mood disorders and related psychopathology.
Specific findings

Exposure to music positively affected cognitive functioning and was associated with higher recall accuracy.
Clinical symptoms improved with significant reductions in migraine frequency and motor impulsivity (acting without thinking and being driven by the momentum).
With respect to coping, music increased coping behaviors and reduced frequencies of behavior problems associated with grief and distress.
The effects of music on internalized symptoms related to coping were unclear.

1 of 3 studies reported a significant improvement in grief-related symptoms.
There was no significant impact on self-concept.
Similarly, the impact of music on clinical affect was also unclear.

Inconsistent findings were reported for social behaviors and developmental achievements.
The bottom line?
There appear to be areas (cognitive function, recall, impulsivity, coping and behavior) where children benefit from music.
However, the authors concluded, "These findings offer limited qualitative evidence to support the effectiveness of music on health-related outcomes for children and adolescents with clinical diagnoses."
They acknowledge that music is a popular form of therapy. However, they believe that better study design is important in order to clearly establish its value in healthcare.
12/7/10 21:26 JR