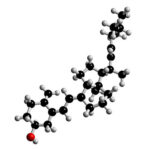 Vitamin D plays a role in the immune response to infection.
Researchers in New Zealand studied whether vitamin D deficiency was associated with a lower immune response and worse outcomes in patients admitted to the hospital with community-acquired pneumonia.
First, the details.
Associations between mortality and blood levels of 25-hydroxyvitamin D, cathelicidin, and beta-defensin-2 were investigated in 112 patients admitted with community acquired pneumonia during winter.

Cathelicidins are proteins that are regulated by vitamin D and act to protect against infection.
Beta defensins, also regulated by vitamin D, act to counteract bacterial adherence and invasion through the skin.
And, the results.
Severe vitamin D deficiency (less than 30 nmol/L) was common in this population (15%).
Those with severe deficiency experienced a significantly higher 30-day mortality vs patients with sufficient vitamin D (greater than 50 nmol/L).
These associations were not explained by differences in age, comorbidities, or the severity of the acute illness.
Neither cathelicidin nor beta-defensin-2 levels predicted mortality.
Neither cathelicidin nor beta-defensin-2 levels correlated with 25-hydroxyvitamin D.
The bottom line?
The authors concluded, "25-hydroxyvitamin D deficiency is associated with increased mortality in patients admitted to hospitals with community acquired pneumonia during winter."
And, the risk isn't limited to mortality.
Researchers at the University of Saskatchewan, in Canada, reported that the risk of admission to pediatric intensive care with acute lower respiratory infection is greater among those who are vitamin D deficient.
More reasons to test for and treat vitamin D deficiency.
5/11/11 18:27 JR