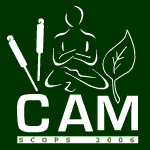 Today is World Asthma Day.
So, researchers at the Universite de Montreal, in Quebec, surveyed CAM use and factors associated with its use.
First, the details.
Parents of 2027 children who went to the Asthma Centre of The Montreal Children's Hospital between 1999 and 2007 completed a questionnaire.
The children ranged from 3 to 10 years old; 58% were male, and 59% of children had persistent asthma — asthma symptoms during the day on most days and frequent symptoms at night.
And, the results.
13% of the children used CAM.
Most commonly reported CAM:

Supplemental vitamins (24%)
Homeopathy (18%)
Acupuncture (11%)

There was an association between CAM use and age younger than 6 years, Asian ethnicity, episodic asthma, and poor asthma control.
The bottom line?
The authors concluded, "The prevalence of reported CAM use among Quebec children with asthma remained modest (13%)."
CAM use is estimated to be about 12% among children in the US.
By comparison, 37% of US adults use CAM.
12/2/10 20:55 JR