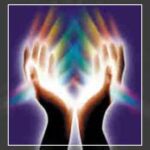 Researchers from the UCLA Division of Cancer Prevention and Control Research, Los Angeles, California think Reiki, therapeutic touch, and healing touch warrant further research.
First, the details.
66 studies with a variety of biofield therapies in different patient populations were reviewed.
And, the results.
Studies were of medium quality, overall.
There was strong evidence for biofield therapies for…

Reducing pain intensity in people with pain.

There was moderate evidence for…

Reducing pain intensity in people hospitalized or with cancer.
Reducing negative symptoms in dementia and decreasing anxiety in hospitalized patients
Negative symptoms include apathy, social withdrawal and emotional disengagement, and some experts think they contribute to functional impairment caused by cognitive (reasoning) deterioration

It was unclear it there was any effect on…

Fatigue and quality of life in cancer patients
Comprehensive pain outcomes and affect in pain patients
Decreasing anxiety in cardiovascular patients was equivalent.
The bottom line?
The authors concluded there's a need for further high-quality studies.
In addition, "In order to better inform patients of the potential benefits or non-benefits of these biofield-based interventions, clinicians and scientists… should familiarize themselves with current theory, practice and research of such techniques."
10/31/09 22:47 JR; updated 5/17/11 11:39 JR