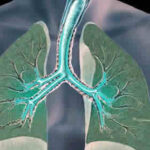 Yes, aerobic exercise training improves aerobic fitness and reduces dyspnea in asthmatics. However, its effect on psychological distress and symptoms is poorly understood.
Researchers at the University of Sao Paulo, in Brazil, studied the role of aerobic training on quality of life and psychological distress in patients with moderate or severe persistent asthma.
First, the details.
101 patients were randomly assigned to a treatment group that met twice a week for 3 months.

Control patients participated in an educational program and breathing exercises.
Training group patients participated in an educational program, breathing exercises, and aerobic training.

Quality of life and levels of anxiety and depression were measured before and after treatment.
Asthma symptoms were evaluated monthly.
And, the results.
At 3 months, physical limitations, frequency of symptoms, psychosocial distress, and health-related quality of life significantly improved only in the training group patients.
The number of asthma-symptom-free days and anxiety and depression levels also significantly improved in this group.
In addition, improvement in aerobic capacity was associated with significantly more days without asthma symptoms.
The bottom line?
The authors concluded, "Aerobic training… may be especially useful for patients with higher levels of psychosocial distress."
WebMD has reviewed the relationship between exercise and asthma, and lists the exercises that are best and those that are less well tolerated.
Activities that involve long periods of exertion and cold weather sports are less well tolerated compared to swimming, walking, aerobics, and several other activities listed in the article.
As might be expected, it's recommended that patients consult their healthcare provider before undertaking an exercise program.
9/6/10 18:57 JR