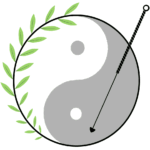 In the British Medical Journal, Prof. Patrick Woo from the University of Hong Kong describes what might be "the tip of the iceberg."
He calls for more rigorous infection control guidelines. The National Certification Commission for Acupuncture and Oriental Medicine responds. And success in treating these infections is summarized as part of an update to this original post.
Risk
The risk comes because acupuncture needles are inserted up to several centimeters beneath the skin.
While most patients recover from infections, 5% to 10% of the reported bacterial infections end up with serious problems including joint destruction, multi-organ failure, flesh-eating disease, and paralysis.
There are also reports of hepatitis B (5 outbreaks in more than 80 patients, since the 1970s), and perhaps cases of hepatitis C and HIV transmitted via acupuncture.
New clinical syndrome
A new clinical syndrome has emerged in the 21st century — acupuncture mycobacteriosis — that is mainly caused by rapidly growing mycobacteria.

It's believed these mycobacteria are transmitted from the environment to patients via contaminated equipment used in acupuncture, such as cotton wool swabs, towels, hot pack covers, and boiling tanks.
Mycobacteria have caused 2 large outbreaks associated with acupuncture, which affected more than 70 patients.
The bottom line?
Prof. Woo concludes, "To prevent infections transmitted by acupuncture, infection control measures should be implemented, such as use of disposable needles, skin disinfection procedures, and aseptic techniques. Stricter regulation and accreditation requirements are also needed."
Others who have studied the safety of acupuncture found it to be relatively safe.
In response, The Australian Acupuncture and Chinese Medicine Association says infection control guidelines are being reviewed. Some practitioners have not been using needles, with others re-use needles on the same patient during subsequent visits.
OK, but In the mean time, researchers from Korea have reported on an outbreak of skin infections in 52 people following acupuncture that were due to a bacterium called Mycobacterium abscessus in Ansan, Korea, from November 2007 through May 2008. M. abscessus can cause a variety of serious infections, usually of the skin and the soft tissues under the skin.
Among combination antibiotics used to treat these infections; "the combination regimen of clarithromycin [Biaxin] + moxifloxacin [Avelox] resulted in a better response than clarithromycin + amikacin [Amikin]."
3/22/10 16:41 JR; updated 10/27/10 21:53 JR