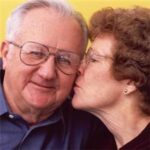 Most drugs used to treat Alzheimer's disease are classified as cholinesterase inhibitors.
Researchers in California and Washington DC studied huperzine A, a natural cholinesterase inhibitor derived from the Chinese herb Huperzia serrata.
First, the details.
210 people with mild to moderate Alzheimer's disease were randomly assigned to a treatment group for at least 16 weeks.

Placebo
Huperzine A 200 mcg taken twice daily
Huperzine A 400 mcg taken twice daily

The cognitive effects of huperzine A 200 mcg at week 16 were compared to placebo.
Also, the effects of huperzine A 400 mcg were evaluated using a battery of tests.
And, the results.
Huperzine A 200 mcg twice daily showed no effect.
Huperzine A 400 mcg twice daily showed significant improvement in ADAS-Cog at 11 and 16 weeks vs a decline with placebo group.

ADAS-cog is the most popular cognitive test used in research.

Changes in clinical global impression of change using the Neuropsychiatric Inventory (NPI) and activities of daily living were not significant at either dose.

NPI is a tool to assess psychopathology in patients with dementia and other neuro-psychiatric disorders.
The bottom line?
In this "dose-ranging study," the primary endpoint of the research was any response to huperzine A 200 mcg. Based on this the authors concluded, "The primary efficacy analysis did not show cognitive benefit with huperzine A 200 mcg twice daily."
Any future research is likely to focus on the 400 mcg twice daily dose.
A review from 2008 by researchers at the Mayo Clinic, in Rochester, Minnesota, listed several characteristics of huperzine A that suggest it might be beneficial in these patients.
A potent, reversible, and selective inhibitor of acetylcholine esterase
Rapid absorption and penetration into the brain in animal studies.
Compared to the current cholinesterase inhibitors, huperzine A has a longer duration of action.
Some studies suggest better tolerability due to fewer peripheral cholinergic side effects.
Animal data and clinical safety tests to date have not identified any unexpected toxicity.
Gastrointestinal complaints have been reported.
4/19/11 18:59 JR