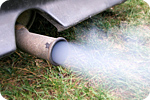 Dr. Gordon Bloomberg is professor of pediatrics in the Division of Allergy, Immunology and Pulmonary Medicine at Washington University School of Medicine, in St Louis, Missouri.
He has reviewed the influence of factors that affect recurrent wheezing in young children.
Here's what we know.
Examples of environmental factors that affect recurrent wheezing in young children.

Diet

A 'Mediterranean diet' and a diet that emphasizes polyunsaturated fatty acids during pregnancy and early infancy may protect from wheezing.
Breastfeeding may also protect from wheezing.

Exposure to air pollution

Traffic-related pollution may independently affect the incidence of wheezing in young children.
The bottom line?
Dr. Bloomberg concludes, "An evaluation of collective factors influencing the presence of disease may help to broaden the clinical assessment and give parents and physicians the opportunity to potentially modify circumstances that promote the incidence of recurrent wheezing in infants and preschool aged children."
Are environmental and dietary factors important?
The answer is yes.
These factors should stated by patients.
They should be recorded by the healthcare professional as part of the patient's medical record.
And, they should be a significant part of treatment recommendations for children with recurrent wheezing.
4/19/11 20:29 JR