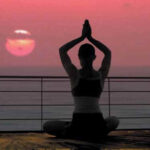 Just once a week improved pain, fatigue, and depression, according to researchers at Oregon Health & Science University, in Portland.
First, the details.
53 women with fibromyalgia for about 12 years were randomly assigned to a treatment group for 8 weeks.

Yoga of Awareness program with standard care
Wait-listed and standard of care

Some of the women were taking medication to manage their symptoms.
Each yoga class included 40 minutes of gentle stretching, 25 minutes of mindfulness meditation, 10 minutes of breathing techniques, 20 minutes of lessons on applying yogic principles to coping strategies, and 25 minutes of group discussions.
The women were permitted to practice yoga at home.
And, the results.
The yoga group had greater improvements in symptoms and functioning, including pain, fatigue, mood, pain catastrophizing, acceptance, and other coping strategies.
Based on the Fibromyalgia Impact Questionnaire, overall improvement significantly favored those in the yoga program vs the wait list group.

Greater improvements in symptoms
Better improvements pain, fatigue, stiffness, depression, poor memory, anxiety, tenderness, poor balance, and environmental sensitivity.

Based on the Patient Global Impression of Change scale, yogis had significantly greater overall improvement and gains in strength vs the wait list group.
There were also significant improvements coping, including pain catastrophizing and problem-solving.
The bottom line?
The authors concluded, "This pilot study provides promising support for the potential benefits of a yoga program for women with fibromyalgia."
What's interesting to me is the broad ranging effect of yoga on symptoms.
Pain is typically the main complaint by people with fibromyalgia. Here we see that a single activity affected multiple symptoms, which at first might not be considered connected.
But it appears they are connected. Earlier this year researchers at the University of Utah, in Salt Lake City, reported "small but significant temporal relations among pain, fatigue, and emotional distress."
10/16/10 21:29 JR